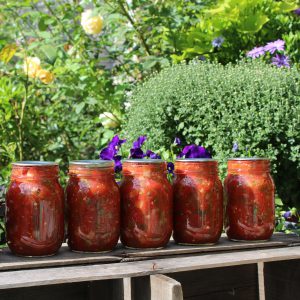 Mama's Chunky Tomato Salsa
I love having a home garden to grow tomatoes for cooking and eating fresh, but when tomatoes are in peak season, I head to the farmers market. My family loves homemade salsa, and so picking up a bushel or two of fresh Roma tomatoes means I can get all my salsa made for the winter in one weekend. I like to use poblano peppers as one of the main ingredients because I love the smoky heat that the pepper adds to the salsa. The amount of heat in the salsa is up to you. It can be made with mild hot peppers like jalapenos or you can increase the heat by using serranos, habaneros or even ghost peppers. This salsa is great served with nacho chips, mixed into black bean quesadillas or just added to your favourite Mexican-inspired soup.
WATER BATH PROCESSING TIME:
15 minutes for altitudes of 1000 feet or below. Adjust processing time for other altitudes.
Equipment
A 16-litre pot for blanching the tomatoes

8-litre stainless steel heavy bottomed pot

large fine mesh strainer

canning pot

wire basket or tray for the bottom of the canning pot

jar lift

magnetic wand for lid placement

funnel

5-500 ml sterilized jars with lids and rings

disposable gloves
Ingredients
14

cups

Roma tomatoes (about 8 lbs before peeling, seeding and chopping)

peeled, seeded and chopped medium dice

3

cups

poblano peppers (about 6-9)

seeded and chopped medium dice. For a milder salsa you can use bell peppers or a combination of poblano and bell peppers.

⅓

cup

jalapeno peppers (about 2-3)

seeded and chopped fine. To make a hot salsa substitute serrano, habanero or ghost peppers

2

cups

Spanish onions or cooking onions

chopped medium dice. (I like to use a combination of these onions.)

1

cup

vinegar

5% acidity or higher

½

cup

cilantro or parsley

chopped fine

⅓

cup

tomato paste

about ½ of a 156 ml can

1

tbsp

sugar

1

tsp

salt

if using kosher salt use 1½ teaspoons

1

tsp

black pepper

5

cloves

garlic

minced

bag of ice cubes for cooling the blanched tomatoes
Instructions
To peel and prepare the tomatoes for dicing:
Cut an X on the blossom end of the tomatoes.

Fill the 16-litre pot halfway with water and bring to a boil. Fill a clean sink with cold water and add a two-three dozen ice cubes.

Boil the tomatoes in batches for 30-45 seconds and then transfer them to the cold water to prevent the tomato flesh from cooking. (Note: if you are using this boiling water to blanch enough tomatoes for several batches of this salsa, make sure that the water remains boiling hot otherwise the peel will not separate easily from the tomatoes. (You might need to let the water return to boiling after blanching more than 8 lbs of tomatoes because every time you add cool tomatoes the boiling water cools slightly.)

Peel and cut the tomatoes in half and remove the seeds and the cores.

Note: If you plan on making several batches of this recipe in one day, to be efficient, blanch all your tomatoes first before peeling and chopping them.
Chop and cook the tomatoes:
Chop the tomatoes, medium dice and measure to 14 cups. Add them to a large fine mesh strainer set over a bowl or pot. Let the tomatoes drain for 30 minutes.

Place the drained tomatoes in an 8-litre pot and heat to boiling, reduce heat. Simmer uncovered for 60-70 minutes or until thickened, stir frequently.

Note: If you plan on making several batches of this recipe, get one batch started by chopping the 14 cups and setting it up to drain before chopping the next 14 cups. When I am making multiple batches of this salsa in one day, I drain and cook all the tomatoes first before doing the next steps.
Chop the remaining vegetables:
Wearing disposable gloves, seed and chop the poblanos or bell peppers; measure 3 cups. (The gloves are needed for chopping poblanos but not for the sweet bells.)

Wearing disposable gloves, seed and chop the jalapenos or serranos; measure ⅓ cup.

Chop the onions to medium dice; peel and mince the garlic.

Chop the cilantro or parsley finely; measure ½ cup.
Add the remaining ingredients to the thickened tomatoes:
Add all of the remaining ingredients to the thickened tomatoes. Bring the mixture back up to a boil, reduce the heat and simmer uncovered for 10 minutes. Remove from heat.

Fill each sterilized jar with the salsa, leaving ½" headspace.

Run a sterilized spoon through the salsa in the jar to remove air bubbles. If after doing this, there is room to add more salsa, go ahead and add it, making sure that you still maintain ½" headspace.

Wipe each jar rim with a paper towel or cloth dampened with hot water.

Top each jar with a washed and briefly warmed snap lid. (I put the snap lid in boiling hot water for 30 seconds; this softens the seal.) Add the sterilized ring and tighten to finger tip tightness.

Process using the boiling water method in a canning pot for 15 minutes. (Make sure to start timing when the water returns to a full boil after adding the salsa-filled jars.)

Remove the jars using a jar lift and place on a cutting board. Do not disturb for 24 hours.

Remove the rings and inspect the jars. Wipe the jars clean with a soapy cloth. Store the salsa without the rings in a dark cool place for up to a year. If any jars have failed to seal, store in the fridge and use immediately.
Video
Notes
Every season, I like to make at least 20 jars of this salsa. Processing an entire bushel of tomatoes, from start to finish, in one day, with two people, using five 8-litre or larger pots to streamline the canning, will take about 8-9 hours. The yield, on average, will be 25-500 ml jars.
Nutrition
Serving:
1
=⅕ of a 500 ml jar
Calories:
12
kcal
Carbohydrates:
2
g
Protein:
1
g
Fat:
1
g
Saturated Fat:
1
g
Sodium:
122
mg
Potassium:
74
mg
Fiber:
1
g
Sugar:
1
g
Vitamin A:
154
IU
Vitamin C:
17
mg
Calcium:
5
mg
Iron:
1
mg