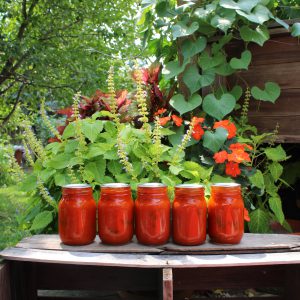 Tomato Soup With Fresh Herbs And Lemon
I like to grow a variety of tomatoes in my garden so that I have some for sandwiches, salads, salsa and sauce. Sometimes my garden and sandwich tomatoes really produce well, which leaves me with more baskets of tomatoes than one family could possibly use up in that way. So, I love this recipe because you can use any variety of tomato, and the best part is that you do not have to peel them prior to cooking. This soup is fantastic in the middle of the winter and honestly tastes like summer in a jar.
WATER BATH PROCESSING TIME:
35 minutes for altitudes of 1000 feet or below. Adjust processing time for other altitudes.
Equipment
16-litre stainless steel heavy bottomed pot

food mill

optional: food processor

If you don't have a food processor, just chop the onions, carrots and celery by hand.

canning pot

wire basket or tray for the bottom of the canning pot

jar lift

magnetic wand for lid placement

funnel

microplane zester

scissors

6-500 ml sterilized jars with lids and rings
Ingredients
To chop with a food processor:
4

cups

onions

pulse about 3-4 large onions to get 4 cups finely chopped

2¼

cups

carrots

finely chopped

1

cup

celery

finely chopped
Remaining ingredients:
6

cloves

garlic

minced

¼

cup

butter

2

tbsp

olive oil

10

lbs

tomatoes

weigh out 10 pounds of tomatoes and then take a thin slice off the stem end

2

tbsp

sugar

you can add up to ¼ cup sugar if you want a sweeter soup

4

tsp

kosher salt

1

cup

basil

lightly packed or substitute flat leafed parsley

2

tbsp

lemon peel

finely shredded

¾

cup

lemon juice

fresh or bottled (bottled will give a stronger lemon flavour in the final product)
Instructions
Using a food processor:
Chop the onions; measure 4 cups.

Chop the carrots; measure 2¼ cups.

Chop the celery; measure 1 cup.
Prepare the remaining ingredients:
Mince the 6 cloves of garlic.

Cut off the stem end of the tomatoes and then chop them into large pieces.

Using scissors, snip the basil or parsley; measure 1 cup.

Using a microplane zester, finely shred the lemon peel; measure 2 tablespoons.

Heat the butter and olive oil in a 16-litre pot.

Add the chopped onions, carrots, celery and garlic to the pot and reduce the temperature to medium heat. Cook for 20 minutes or until the vegetables are soft, stirring frequently.

Stir in the chopped tomatoes, sugar and salt and bring to a boil. Once boiling, reduce to a simmer and cook for another 20 minutes. Stir often.

Press the mixture through a food mill; discard the skins and seeds. Return the strained mixture to the pot and bring to a boil. Reduce the heat and simmer uncovered for 45 minutes or until you have about 10 cups remaining. Remove from heat.

Stir in the basil or parsley, lemon peel and lemon juice.

Fill each sterilized jar with the tomato soup, leaving ½" headspace.

Wipe each jar rim with a paper towel or cloth dampened with hot water.

Top each jar with a washed and briefly warmed snap lid. (I put the snap lid in boiling hot water for 30 seconds; this softens the seal.) Add the sterilized ring and tighten to finger tip tightness.

Process using the boiling water method in a canning pot for 35 minutes. (Make sure to start timing when the water returns to a full boil after adding the tomato soup-filled jars.)

Remove the jars using a jar lift and place on a cutting board. Do not disturb for 24 hours.

Remove the rings and inspect the jars. Wipe the jars clean with a soapy cloth. Store the tomato soup without the rings in a dark cool place for up to a year. If any jars have failed to seal, store in the fridge and use immediately.
Video
Nutrition
Serving:
1
=½ a jar
Calories:
139
kcal
Carbohydrates:
26
g
Protein:
5
g
Fat:
3
g
Saturated Fat:
1
g
Cholesterol:
1
mg
Sodium:
825
mg
Potassium:
1107
mg
Fiber:
6
g
Sugar:
16
g
Vitamin A:
7310
IU
Vitamin C:
65
mg
Calcium:
76
mg
Iron:
1
mg