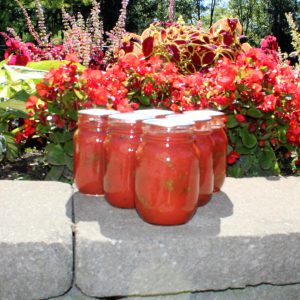 Pasta Sauce With Fresh Herbs
When tomatoes are in abundance at the farmers market, I like to pick up some San Marzano tomatoes and make this sauce. A delicious and versatile sauce to have on hand in the winter because it is great over cooked squash, pasta, gnocchi or used as a sauce for pizza. Any paste tomatoes will work, and I even throw in some field tomatoes sometimes. Once you make this sauce, you will be sure to add it to your fall canning every year!
WATER BATH PROCESSING TIME:
35 minutes
Equipment
12-litre pot

food processor

or optional: KitchenAid with a fruit/vegetable strainer attachment

canning pot

wire basket or tray for the bottom of the canning pot

jar lift

magnetic wand for lid placement

funnel

scissors

6-500 ml sterilized jars and rings

6 snap lids
Ingredients
12

pounds

tomatoes

(about 3 litres and 250 ml of tomato puree after peeling and processing) peeled and blended in a food processor or processed through a KitchenAid vegetable strainer attachment (in this case no need to peel)

1

tablespoon

balsamic vinegar

2-3

tablespoons

brown sugar

2

tablespoons

kosher salt

or 4 teaspoons of regular table salt

1

teaspoon

ground black pepper

2

cups

fresh basil

use the scissors to snip and measure after snipping

½

cup

fresh oregano

use the scissors to snip and measure after snipping

½

cup

fresh parsley

use the scissors to snip and measure after snipping

1-2

teaspoons

crushed chili flakes

optional

6

tablespoons

lemon juice
Instructions
Prepare the tomatoes:
If using a food processor, blanch tomatoes in boiling hot water for 45 seconds and then cool quickly by putting them in ice water. Peel the tomatoes and cut into large chunks.

Add tomato pieces in small batches to a food processor and blend. Transfer the blended tomatoes to the 12-litre stainless steel pot.

If using a KitchenAid vegetable strainer and mixer, process unpeeled tomatoes and transfer the tomato juice to the 12-litre stainless steel pot.
To make the sauce:
Add the balsamic vinegar, brown sugar, salt and ground black pepper to the tomatoes in the pot.

Bring the mixture to a boil over medium-high heat, reduce the heat and simmer uncovered for 75 minutes. Stir frequently.

Remove from the heat and add the snipped basil, oregano, parsley and, if using, the crushed chili flakes.

Fill each sterilized jar with the pasta sauce halfway, add 1 tablespoon of the lemon juice, continue to fill with the pasta sauce leaving ½" headspace. Stir the pasta sauce with a sterilized spoon to remove air bubbles.

Wipe each jar rim with a paper towel or cloth dampened with hot water.

Top each jar with a washed and briefly warmed snap lid. (I put the snap lid in boiling hot water for 30 seconds; this softens the seal.) Add the sterilized ring and tighten to finger tip tightness.

Process using the boiling water method in a canning pot for 35 minutes. (Make sure to start timing when the water returns to a full boil after adding the pasta sauce-filled jars.)

Shut off the canning pot and leave the lid on while the jars rest in the pot for 5 minutes. This is called venting.

Remove the jars using a jar lift and place on a cutting board. Do not disturb for 24 hours.

Remove the rings and inspect the jars. Wipe the jars clean with a soapy cloth. Store the pasta sauce without the rings in a dark cool place for up to a year. If any jars have failed to seal, store in the fridge and use immediately.
Video
Nutrition
Serving:
1
=¼ of a jar
Calories:
50
kcal
Carbohydrates:
11
g
Protein:
2
g
Fat:
1
g
Saturated Fat:
1
g
Polyunsaturated Fat:
1
g
Monounsaturated Fat:
1
g
Sodium:
596
mg
Potassium:
572
mg
Fiber:
3
g
Sugar:
7
g
Vitamin A:
2142
IU
Vitamin C:
35
mg
Calcium:
46
mg
Iron:
1
mg